Not your postcode?
Setting the first half of your postcode shows you the full choice in your area.
Customer Emails
Over the years we have received many unsolicited letters from delighted customers. We are proud to show you the actual letters. Click here to see our Customer Letters ...
In recent years more customers express their appreciation by email:
Scroll down to see unsolicited customer emails received so far this year ...
... or click here to see emails received in 2006, 2007, 2008, 2009, 2010, 2011, 2012, 2013, 2014, 2015, 2016, 2017, 2018
Hi there just to say thank you i have received excellent customer service from you
Kind Regards
Angela, Catchgate, Stanley, DH9, 6x4 Greenhouse 005, 4th November 2019
Hello again.
You recently sent us some extra wire spring clips for our greenhouse.
We have had very high winds but none of the panes have popped out.
Problem solved. Thanks so much.
Steve and Olivia, Petersfield, Hampshire, GU32, 6x8 Repackaged Aluminium Greenhouse 025, 30th October 2019
Thank you
The parts have arrived and if it ever stops raining we will finish the greenhouse and hopefully learn to enjoy it.
You have all been very kind and helpful and we very much appreciate it.
Steve and Olivia, Petersfield, Hampshire, GU32, 6x8 Repackaged Aluminium Greenhouse 025, 30th October 2019
Hi,
Thanks for the prompt action and in regards to your telephone message, that's fine.
And the greenhouse looks amazing.
Many thanks
Julie, Birmingham, West Midlands, B30, 6x4 Greenhouse 022, 19th September 2019
August 1st.
Thank you so very much for the delivery and arranging the contractor for taking down and installing my new greenhouse.
(INSTALLER 158) was excellent. He was good at his job and very friendly. He worked very hard in terrible conditions on the day he took the greenhouse down but remained on site and sorted it all out.
I have no hesitation in recommending him for any further work should he need a Reference.
Thank you,
Heather, Fremington, Barnstaple, EX31, 6x8 Greenhouse 135, 1st August 2019
This greenhouse was fitted by Installer 158
For the past eight hours I have been the delighted owner of a fully installed and functioning 10x18 anthracite Greenhouse 65. Delighted is an understatement - it exceeds my expectations and I am thrilled to bits. It is so smart and spacious, it almost seems a shame to put anything in it! My only real worry was that I'd get the base dimensions wrong, despite continually remeasuring, but thankfully those fears were unfounded. The installer recommended by you, (INSTALLER 358) was very easy to deal with, highly competent, obviously well experienced with the product, and we enjoyed his company. As did one of our cats who got on his lap and wanted to share his packed lunch........ He also had to contend with having to work here during two of the hottest days of the year! The reason it's taken a while to complete is simply that our neighbour offered to dig out the base, but we had to wait until he was free to do it.
The only negative point is that one of the Bayliss auto vent openers is not fully opening with all the others, and (INSTALLER 358) had the impression that it has a slight leak. He tells me this is easy to resolve with a replacement tube, and I'd be grateful if you could advise me on this. I can email you a photo if necessary.
I have already commented on the excellence of your delivery driver, and the male member of your staff I spoke to one Sunday afternoon back in the Spring, mainly about the base needed, was very helpful. The arrangements for delivery, both for the greenhouse and the free staging, were made to suit us. We were also fortunate with the local builder recommended to do the concrete base, so all in all it's been a trouble free process. Please count me as a very satisfied customer!
With best wishes,
Wendy, Broadwoodkelly, Devon, EX19, 10x18 Greenhouse 65, 25th July 2019
This greenhouse was fitted by Installer 358
Many thanks for your prompt service and attention to my error!
Regards,
Angela, Kenton, Newcastle Upon Tyne, NE3, Wooden Growhouse 061, 20th July 2019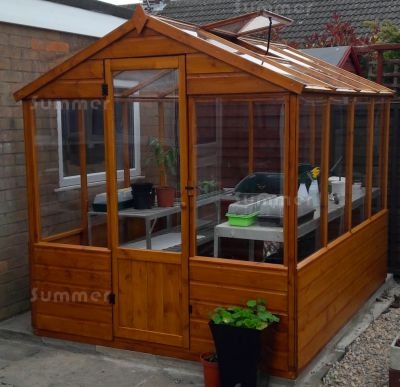 Just a couple of photos of your brilliant 8x6 apex 290 greenhouse in my garden.
Regards
Keith, Withernsea, HU19, 6x8 Wooden Greenhouse 290, 12th June 2019
Thank you for your email. And a special thank you for keeping me informed
You put Amazon to shame, and I will recommend you to every one in the
Future. Everything has been so simple.
Regards
Darlene, Westbury, Wiltshire, BA13, 6x6 Greenhouse 080, 23rd May 2019
Lovely product. Easy to assemble and very sturdy. Holds Lots of plants.
Thank you.
Yours sincerely
Ann, Rippingale, Bourne, PE10, Greenhouse Staging 346, 23rd May 2019
Thank you very much for your excellent instructions. The auto opener on the louvre vent is now installed and working beautifully.
Kind Regards
Liz, Burton on Trent, Staffordshire, DE14, 6x6 Greenhouse 014, 21st May 2019
Thank you very much for your help this morning.
I have received the first package of 30 nuts and bolts in the late post today.
Looking forward to the receipt of the remaining 4 nuts and bolts and 4 replacement square end caps that I damaged.
Thanks once again for your excellent customer service.
Kind Regards
Liz, Burton on Trent, Staffordshire, DE14, 6x6 Greenhouse 014, 10th May 2019
Just to say a big THANK YOU, all items received today
Janet, Carterton, Oxfordshire, OX18, 6x6 Greenhouse 080, 30th April 2019
Just to let you know that I was very impressed with your green house staging. Solidly made, simple to assemble and excellent value. Order process and delivery first class. Congratulations!
Best wishes,
Peter, Ware, SG12, Greenhouse Staging 346, 25th April 2019
The bench has arrived and has been put together and it's great, thank you.
Barbara, Crumpsall, Manchester, M8, Potting Bench 313, 25th April 2019
Goods arrived in today's mail.
Very many thanks for your prompt service.
Regards,
Nicholas, Burghill, Hereford, HR4, Automatic Roof Vent Opener, 25th April 2019
Hi Anna, Relevant parts received with thanks. Greenhouse now complete and already filling up. Thanks again for a wonderful service, I am highly delighted with the the greenhouse and so is my partner who will be spending most of her time in there. Thanks again for a ten out of ten service and product. Regards
Terence, Newcastle-under-Lyme, Staffordshire, ST5, 4x10 Lean to Greenhouse 045, 21st April 2019
EXTRA NOTE:- THE RUBBER GLAZING GASKET IS SUPPLIED AS A DOUBLE WIDTH ROLL. THE 2 STRANDS ARE EASILY SEPARATED. IF NOT THERE MAY BE A SHORTAGE, AS IN THIS CASE.
I write to confirm receipt this morning of the faulty part replacement.
Thank you very much for speedy replacement and it was good doing business with you.
Thanks and regards
Sandra, Boulton Moor, Derby, DE24, Potting Bench 318, 16th April 2019
Many thanks for your really quick, courteous and extremely helpful resolution to our 'missing part' problem; your customer service is fabulous! (You should run courses for other companies!)
Thanks again,
Chris and Sue, Appleby Magna, Swadlincote, DE12, 4 Tier Shelf Unit 348, 14th April 2019
Email received. Shelves received. Very pleased, they are easily put together and very stable. Should have bought some years ago, if they had been available then. Thank you.!!!
Sheila, Leigh, Manchester, WN7, 4 Tier Shelf Unit 348, 11th April 2019
Please find attached a review of your excellent greenhouse,
Many thanks
Dave, Stannington, Morpeth, NE61, 8x10 Greenhouse 090, 7th April 2019
Hi
Tracking information received for second staging I have ordered. First arrived on time, easy to assemble, very strong and does the job.
Best regards
Peter, Dinnington, Newcastle upon Tyne, NE13, Greenhouse Staging 346, 28th March 2019
The grow house was delivered this afternoon and is now erected. . Am delighted with the grow house and look forward to using it. This is my present for Mothering Sunday. Many thanks for your prompt attention and service. Regards
Beverley, Rothesay, Isle of Bute, PA20, Wooden Growhouse 070, 27th March 2019
Hi have just assemble the staging easy to build looks great in my greenhouse thanks
Regards
Geoffrey, Chepstow, Monmouthshire, NP16, Greenhouse Staging 346, 27th March 2019
Many thanks for superfast service in supplying the extra Sealing Strip. Regards
Neil, Lindfield, West Sussex, RH16, 4x6 Lean to Greenhouse 045, 21st March 2019
-------------------- PREVIOUS EMAIL --------------------
On 18 Mar 2019 Alan wrote:
I recently purchased a Leanto Greenhouse 4 x 6 Product number 045 model 46 I have nearly completed the Glazing but I am approx. 5M short of Sealing strip.
Can you help please. regards Neil
Thank you so much for new part.. great service.
Thank you
Fiona, Larbert, Falkirk, FK5, Wooden Growhouse 070, 18th March 2019
Hi thank you so much for the greenhouse which we received .thanks for a very efficient service.
Regards
David, Burradon, Cramlington, NE12, 6x8 Greenhouse 014, 7th March 2019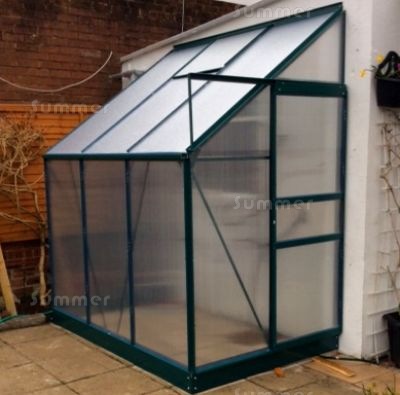 fao Guy
Good morning
I thought you would be interested to see your greenhouse erected and looking good in position.....complete with vine for next year's vintage crop.
Hopefully after the stormy weather forecast later today it will survive well.
Appreciated the advice given by you and the team
Best regards
Alexander, Troon, KA10, 4x6 Lean to Greenhouse 045, 2nd March 2019
Dear Guy, Thanks for thr replacement part. It cam e in time for me to fit, before the, 'Hot Spell',
Regards
Peter, Bingley, West Yorkshire, BD16, Automatic Roof Vent Opener, 28th February 2019
EXTRA NOTE:- THIS PRODUCT WAS ORIGINALLY ORDERED ON 22nd MARCH 2018
Thank you for a great service will be ordering with you again
Tracy, Whitehall, Bristol, BS5, Galvanized Steel Tray Staging 387, 21st February 2019
Thanks for reply. Yes all on for Thursday delivery. Many thanks for all your professional help
Much appreciated. You have a great team there.
Isobel, Selkirk, TD7, 6x6 Greenhouse 005, 21st February 2019
Good Afternoon,

(INSTALLER 158) has done an excellent job putting this greenhouse up. However unfortunately there is a small piece of glass missing, which he has highlighted in your instruction manual.

On page 21 the item missing is a piece of glass labelled......F 457x190(mm) and the number 4 under the 8 feet column.

Could you kindly send me this piece of missing toughened glass as soon as possible.
Kind Regards
Julian, Bideford, Devon, EX39, 6x8 Aluminium Greenhouse 190, 11th February 2019
This greenhouse was fitted by Installer 158
Hi
I have received the missing part for my greenhouse.
Thank you very much for your good service.
Best Regards,
Alan, Gosport, Hampshire, PO13, 2x6 Lean to Greenhouse 310, 10th February 2019
Sent from my iPad
-------------------- PREVIOUS EMAIL --------------------
On 31 Jan 2019 Alan wrote:
Sir/Madam.
On Tuesday 28th January I took delivery of a 310 Lean-to Greenhouse.
I have assembled it and all is fine .....BUT-
The two black plastic end caps on the parts list are both the same hand.
The two I have here have the letter B on the moulding,so it would appear that I need
An 'A' and a 'B'.
Would you please send me the correct part.
Alan
Thanks.
Thank you so much. I really appreciate your help in this matter and will definitely recommend your services to others.
Yours sincerely
Jo, Grays, RM16, 2x6 Lean to Greenhouse 310, 6th February 2019
-------------------- PREVIOUS EMAIL --------------------
On 6 Feb 2019 Summer Garden Buildings wrote:
Dear Mrs (NAME)
I write to confirm that we have accepted your request to cancel your order.
We have refunded £213.00 to your credit card today. The refund may take a few days to appear on your statement.
Regards
Accounts Department
Delivery received (3 parts) 1730 today haven't opened packets yet. What great service.
Barry, Trowbridge, Wiltshire, BA14, 6x8 Greenhouse 014, 24th January 2019
Hi Guys,
4mm twinwall sheets delivered this morning. Thanks for great service.
Robin, Thornhill, Dumfries and Galloway, DG3, Polycarbonate Glazing Sheets, 3rd January 2019