Not your postcode?
Setting the first half of your postcode shows you the full choice in your area.
External dwarf wall sizes
6ft wide Greenhouse 61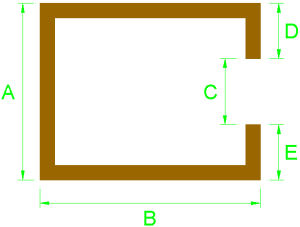 We recommend that your dwarf walls should be the built to the external dimensions listed below to ensure the correct installation of your greenhouse. Dwarf walls should be 600mm high measured from the top of the course of bricks directly below the door cill. The dwarf wall dimensions listed below are the external width (A), the external length (B). the doorway opening (C) and the two doorway returns (D and E). The width refers to the angled gable wall. The walls can be either double or single skin with the same external dimensions for both. If single skin walls are specified we recommend internal piers to each side of the door opening. The top course of bricks should be laid frog down and any holes in the bricks should be filled in with mortar. Hard fletton type bricks may not be suitable for drilling fixing holes.
6'5" x 4'7" GREENHOUSE - EXTERNAL DWARF WALL SIZES
(A) = 1960mm (6'5 1/8") external width
(B) = 1392mm (4'6 3/4") external length
(C) = 660mm (2'2") doorway opening
(D) = 650mm (2'1 5/8") return
(E) = 650mm (2'1 5/8") return

6'5" x 6'7" GREENHOUSE - EXTERNAL DWARF WALL SIZES
(A) = 1960mm (6'5 1/8") external width
(B) = 2012mm (6'7 1/4") external length
(C) = 660mm (2'2") doorway opening
(D) = 650mm (2'1 5/8") return
(E) = 650mm (2'1 5/8") return
6'5" x 8'8" GREENHOUSE - EXTERNAL DWARF WALL SIZES
(A) = 1960mm (6'5 1/8") external width
(B) = 2610mm (8'6 3/4") external length
(C) = 660mm (2'2") doorway opening
(D) = 650mm (2'1 5/8") return
(E) = 650mm (2'1 5/8") return
6'5" x 10'8" GREENHOUSE - EXTERNAL DWARF WALL SIZES
(A) = 1960mm (6'5 1/8") external width
(B) = 3230mm (10'7 1/8") external length
(C) = 660mm (2'2") doorway opening
(D) = 650mm (2'1 5/8") return
(E) = 650mm (2'1 5/8") return
6'5" x 12'8" GREENHOUSE - EXTERNAL DWARF WALL SIZES
(A) = 1960mm (6'5 1/8") external width
(B) = 3850mm (12'7 1/2") external length
(C) = 660mm (2'2") doorway opening
(D) = 650mm (2'1 5/8") return
(E) = 650mm (2'1 5/8") return
6'5" x 14'9" GREENHOUSE - EXTERNAL DWARF WALL SIZES
(A) = 1960mm (6'5 1/8") external width
(B) = 4470mm (14'8 1/8") external length
(C) = 660mm (2'2") doorway opening
(D) = 650mm (2'1 5/8") return
(E) = 650mm (2'1 5/8") return
6'5" x 16'9" GREENHOUSE - EXTERNAL DWARF WALL SIZES
(A) = 1960mm (6'5 1/8") external width
(B) = 5090mm (16'8 3/8") external length
(C) = 660mm (2'2") doorway opening
(D) = 650mm (2'1 5/8") return
(E) = 650mm (2'1 5/8") return