Not your postcode?
Setting the first half of your postcode shows you the full choice in your area.
In a moment you may be asked to share your location. Please allow this so that we can show you the full choice in your area (inclusive of delivery charges). You may also set your location manually using the button above.

Click this messge to hide it.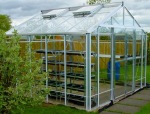 What size Robinsons greenhouse do I need?

The space will always be used, so buy the biggest Robinsons greenhouse you can afford provided that it fits comfortably in the space available. There are no precise guidelines regarding the size. Often the size of the greenhouse is dictated by the space available. At Summer Garden Buildings we offer a wide range of greenhouse sizes to suit every space. If you are replacing an existing greenhouse, you should consider whether to have the same size again or perhaps larger. You should also consider what you will be growing. The most popular size for a small greenhouse is 8'x6'. Sizes for the more dedicated gardeners range from 8'x10' to 10' x 12' and larger.

Where should I locate my Robinsons greenhouse?

Ideally your Robinsons greenhouse should have a clear space at least 18" wide on all sides, if possible. This ensures easy access for both installation and future maintenance. In reality this is often not practical and at many sites it is not needed. A reduced clearance is often possible on one or two sides. You should cut back or remove any nearby shrubs and trees. Remember to allow for future growth. A greenhouse needs maximum sunlight so it should be sited in a sunny spot outside the shadow of nearby buildings and trees. We recommend a sheltered position which is not exposed. Ideally the ridge of a freestanding greenhouse should run from east to west. A lean to greenhouse should be sited against a south facing wall. Plants need plenty of water so your greenhouse should be close to a water supply and the site should be well drained.

What type of base is suitable for my Robinsons greenhouse?

All greenhouses need a substantial base. The base should be solid, square, flat and level to ensure the stability of your greenhouse. Robinsons greenhouses can be laid on any hard flat surface including well compacted soil but paving slabs or concrete are best.

How can I get rid of my old greenhouse?

The easiest way to remove your existing greenhouse is to sell it. There's a very healthy trade in old second hand greenhouses. You probably won't earn much money from the sale, but you'll get rid of it for nothing! The usual arrangement is to sell the old greenhouse for the buyer to dismantle at a time which is convenient for you. Ideally you should insist on full payment and immediate removal. If you settle for a deposit, perhaps with removal at a later date, make sure it's a significant deposit. You need to be confident that the buyer will return when agreed! You can normally place a classified advertisement in the local newspaper for a few pounds by phone or online, with payment by credit card. Typical draft advertisement: "Aluminium greenhouse 8' x 12' double doors, good condition, buyer to dismantle, £50 for quick sale. Phone 01234 567890"

What access is required to deliver my Robinsons greenhouse?

Your Robinsons greenhouse will be delivered by prior appointment with you. Robinsons greenhouses are normally delivered in long boxes with the lengths of aluminium and smaller packs of the glazing. Access through the house may be possible if there is a straight route. Please advise us if there are any access restrictions at the site.

Is my Robinsons greenhouse suitable for DIY assembly?

Robinsons greenhouses are suitable for DIY assembly. Assembly is a straightforward and satisfying project for any DIY enthusiast. Even large Robinsons greenhouses can be installed with only basic tools, such as a hammer, a screwdriver, a power drill, a spirit level, an adjustable spanner, a knife, a stepladder and safety goggles. Particular care is required when handling glass and good quality gloves should be worn at all times. You should not attempt to lift heavy sections without a helping pair of hands. Remember that extra time spent preparing a good base is normally repaid with time saved later on during the installation. Our low cost installation service is available in many areas so if you prefer you can have your Robinsons greenhouse professionally installed.

Can I insulate my Robinsons greenhouse?

Inexpensive bubble insulation can be easily fitted to the frame of a Robinsons greenhouse. Heaters are also available. Selected Robinsons greenhouses are available with internal partitions to provide for warm areas. Selected Robinsons greenhouses are available with shading kits to protect plants from scorching.

Can I have electricity in my Robinsons greenhouse?

Although providing an electricity supply to a Robinsons greenhouse is normally a straightforward task, for safety reasons we recommend that you consult an approved electrician first. Since January 1st 2005 all electrical work must be completed in accordance with IEE wiring regulations and BS 7671. Notifiable work must be either notified directly to the local building control department or completed by an operator who is approved under the Part P Electrical Competent Person Scheme.

Is planning permission required for my Robinsons greenhouse?

The majority of Robinsons greenhouses do not require planning permission. However, permission is required for any greenhouse which covers over half the garden, which is not for domestic use or which is over 3 metres high with a pent roof or 4 metres high with an apex roof. Larger greenhouses which are within 2 metres of a boundary and over 2.5m high (8'2") require planning permission. Some larger greenhouses with apex roof or octagonal designs may be over 2.5m high. Planning permission may also be required for any greenhouse which is nearer to a public highway than the original dwelling. For planning purposes a public highway includes any road or footpath with a public right of way. If you live in a Conservation Area or a Listed Building permission may be required for any greenhouse over 10 cubic metres. This brief summary is not intended to be a comprehensive guide. Contact us for further advice or contact your local planning department. Please note that planning regulations apply to any building whether temporary or permanent including greenhouses.

Is building regulations approval required for my Robinsons greenhouse?

The majority of Robinsns greenhouses do not require approval under the building regulations. However, approval is required for any greenhouse with an internal floor area of more than 30 square metres. The standard Robinsons greenhouses are less than this size. However, it is possible to exceed 30 square metres internal floor area if you add extensions to the standard Robinsons greenhouses. Please note that the building regulations apply to any building in excess of 30 square metres whether temporary or permanent including Robinsons greenhouses.

Why should I choose a Robinsons aluminium greenhouse?

Aluminium is an excellent material for Robinsons greenhouse frames for many reasons. It is strong and at the same time very light with a higher strength to weight ratio than any other commonly used greenhouse framing material. In addition, aluminium needs no protective coating and it can be used in its natural state. Aluminium won't warp, rot or rust and it is non toxic.

Will my Robinsons greenhouse last?

All Robinsons greenhouse frames are guaranteed for 12 years. One of aluminium's greatest attributes is its natural ability to withstand corrosion. An excellent example of its durability is the roof of the San Gioacchino church in Rome, which is roofed in aluminium and it is still in great condition after 100 years. Even after a hundred years of exposure the worst that happens is the surface takes on a rough grey texture as it very gradually oxidises. An unpainted Robinsons aluminium greenhouse will gradually oxidise producing fine grey powder forms on the surface of the greenhouse. This is the aluminium's natural self protection and it does not harm the greenhouse. Oxidisation occurs quicker in areas of high pollution or in coastal areas.

What is powder coated aluminium?

Robinsons greenhouses are available with a powder coated aluminium frame as an option. Powder coating is the application of paint in a dry form by the electrostatic spraying of charged particles of powder. Polyester powders have excellent weathering properties and retain their gloss and colour superbly. A good example of the finish achieved with powder coating is the finish on your washing machine, which is very similar to our powder coated greenhouses. The first powder coating systems for aluminium were developed in the 1950s. The aluminium was heated up and then submerged in tubs of powder. In the early 1960s this primitive system was improved with the introduction of curing ovens. The early powders were made from an epoxy based substance but this was replaced in the 1970s by the more durable polyester powders in use today. The powders are a blend of colour pigments and protective resin with hardeners and additives to improve spraying and surface hardness. The aluminium extrusions go through an extensive cleaning, etching and treatment process. This process removes impurities and swarf and smut left over after cutting. A final treatment allows the aluminium to take the powder. The extrusions are then dried. The aluminium is earthed inside the spray booth and electrically charged particles of powder are then sprayed onto the surfaces. As the aluminium is earthed and the powder positively charged the two are electrostatically attracted. The aluminium extrusions are then cured in an oven at 200 degrees Centigrade for ten minutes.

What are the benefits of powder coated aluminium?

A powder coated Robinsons greenhouse has a decorative finish but it is also protected against the elements. A powder coated surface is tougher than a wet paint finish and prevents unsightly surface oxidisation. The polyester powders have high colour and gloss retention. The popular Robinsons green finish blends in with natural garden surroundings

How do I clean a powder coated Robinsons greenhouse?

In order to maintain the high quality finish a powder coated Robinsons greenhouse can be cleaned regularly. The frequency of cleaning depends on the environment. If your greenhouse is in normal urban use a maximum interval of 18 months is recommended. In coastal areas or areas of pollution a greenhouse should be cleaned more frequently. The outside of the greenhouse can be cleaned using a mild detergent in warm water. All surfaces should be cleaned using a soft cloth, a sponge or a natural bristle brush. Cleaning the inside of the greenhouse can only be done outside the main growing season, probably in late September or October. For the plants sake use a mild disinfectant cleaning fluid as this will kill off any pests which could harm the plants.

How do I clean my Robinsons greenhouse glass?

The outside of your Robinsons greenhouse glass can be cleaned using a mild detergent in warm water. All surfaces should be cleaned using a soft cloth, a sponge or a natural bristle brush. Cleaning the inside of the greenhouse can only be done outside the main growing season, probably in late September or October. For the plants sake use a mild disinfectant cleaning fluid as this will kill off any pests which could harm the plants.

How do I maintain my Robinsons sliding doors?

Robinsons sliding greenhouse doors normally have a nylon glide which runs in a channel which often gets blocked with grit and dirt. This will cause the doors to stick and wears out the nylon. The glides should be cleaned regularly to stop this happening.

What is the choice of greenhouses available from Robinsons?

The smallest Robinsons greenhouses includes the 5' wide Regatta and the 6' wide Robinsons Regent. There is also a dwarf wall Regent. The 8' wide range includes the Robinsons Royale and the dwarf wall Royale plus the Robinsons Riviera which features a hipped roof. Larger greenhouses include the 10' wide Robinsons Rosette and the 12' wide Robinsons Regal. The Rosette and the Regal are both available with dwarf walls. The lean to range includes 5' wide and 6' wide models. The Robinsons Renaissance is a range of octagonal greenhouses. A wide range of Robinsons accessories is also available.
Summer Greenhouses is a leading UK retailer of greenhouses including Robinsons greenhouses and other major brands, established in Norwich, Norfolk since 1981.