COVID-19 CORONAVIRUS INFORMATION - We are taking online orders as normal, as encouraged by the government. Many stock products are delivered within a few days. Other products are made to order, typically within 4-6 weeks. Some services are slower than normal due to unprecedented volumes of orders and enquiries. Our Show Centre is temporarily closed. We may not answer all emails and phone calls at present. Telephone lines are open 10am-4pm (Monday-Saturday) until we can resume our normal service. For more information
CLICK HERE
.
Not your postcode?
Setting the first half of your postcode shows you the full choice in your area.
In a moment you may be asked to share your location. Please allow this so that we can show you the full choice in your area (inclusive of delivery charges). You may also set your location manually using the button above.

Click this messge to hide it.
Customer Emails 2013
Scroll down to see unsolicited customer emails received in 2013 ...
... or click here to return to emails received this year.
Dear Summer Garden Buildings,
Thank you for your kind help and work in supplying our new lean-to green house.
The item arrived safely, delivered by a helpful and friendly man.
The installer, another delightful man, arrived two days later and took down the old greenhouse.
With his son, and in the rain the new green house was erected the next day.
Five days later we had the storm with 100 mph winds and heavy rain .The green house was unmoved.
I have had to put in a door sill to stop the rain water from flowing in - this is working well.
I am looking for to over-wintering non hardy plants and to sowing and planting next year.
I am grateful to you all for you excellent workmanship and service.
With best wishes,
Keith, Hove, BN3, 5x10 Lean to Greenhouse 83, 1st November 2013
This building was fitted by Installer 549
Message: HELLO,I ORDERED A 6X6 GREENHOUSE FROM YOU WHICH WAS DELIVERED ON 28TH AUGUST.THIS IS JUST AN EMAIL TO SAY HOW PLEASED I AM WITH THE PRODUCT AND YOUR EXCELLENT SERVICE,WOULD RECOMMEND YOU TO ANYONE.THANKS.
Robin, Alfreton, DE55, 6x6 Greenhouse 120, 20th September 2013
Dear Guy
Many thanks for the prompt response to my email and for arranging a new part to be despatched.
I have to say I am very impressed with the service from your company and will not hesitate to recommend you to my friends and neighbours.
Best wishes,
Lynda, Taunton, TA2, 2x4 Lean to Greenhouse 40, 14th September 2013
EXTRA NOTE:- A REPLACEMENT FOR THE BROKEN COMPONENT WAS ORGANISED WITHIN A FEW HOURS OF RECEIVING THE INITIAL CUSTOMERS EMAIL INFORMING US OF THE DAMAGED PART
Good afternoon
Ref our telecon yesterday - many thanks for your understanding re the outstanding item of Base Anchors.
Very pleasantly surprised this morning as said items appeared in the post :-)
So just a quick note to say thank you very much . . .
Kind regards
ALan, Warminster, BA12, 6x4 Greenhouse 014, 11th September 2013
Hi,
Just to let you know we received the balance of the order this afternoon.
Thank you for your help and your excellent service
Kind regards
James, Essex, CM6, 8x12 Greenhouse 090, 28th August 2013
Dear summergardenbuildings,
Many thanks once again for the great service and a great product.
Really pleased with the constructioin and design.
Kind regards
Anthony, Kettering, NN15, 6x8 Greenhouse 014, 7th August 2013
On 23 July I ordered a compact walk in greenhouse and chose 25 July to have it delivered. On 24 July I received a confirmation phone call and the item was delivered before 9am on 25 July as promised. Superb service. Will definitely use Summer Garden Buildings again. Brilliant. Thank you.
Anne, Matlock, Derbyshire, DE4, Small Walk in Growhouse 442, 25th July 2013
I would just like to say how pleased my mother is with her comdi/greenhouse I am sure she will have many hours enjoying it. Your workmen were very quick to assemble it in and out in just over an hour, very pleased indeed. many thanks.
Mrs Hunt, Sittingbourne, ME10, 6' 5" x 11' 1" Greenhouse 682, 11th June 2013
1st class in every respect I would definately recommend you
Anthony, Renfrew, PA4, 6x6 Greenhouse 014, 7th June 2013
assembled the greenhouse today. very impressed with it, fairly straight forward to build if mechanically minded, there was a few nuts and bolts missing but nothing that couldnt be overcome so thanks v much, might be buying another one off you for my sister, will let you know, cheers, phil.
Phil, Durham, DL16, 6x4 Greenhouse 103, 6th May 2013
EXTRA NOTE:- ADDITIONAL NUTS AND BOLTS WERE DISPATCHED ON THURSDAY 8th MAY
Hi just a quick pic, all completed yesterday and a very pleased customer.
Thanks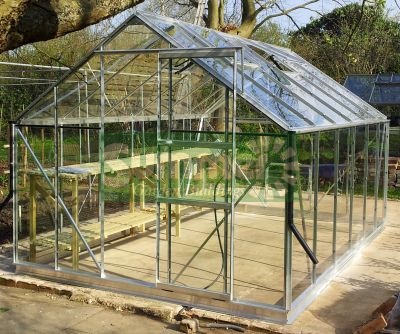 Bernard, Southam, CV47, 8x12 Greenhouse 172, 2nd May 2013
This building was fitted by Installer 135
EXTRA NOTE:- THIS CUSTOMER SENT A PHOTO OF THEIR GREENHOUSE
I don't usually do endorsements but I have to say what a pleasure it has been to deal with your company and product. the greenhouse arrived on Thursday as requested and it is now standing proudly in our garden on Sunday. it was a dream to put together, the instructions where so detailed and easy to follow, and all the parts individually labelled .
and they fitted together precisely no re-drilling was required. I wish all things in this life where as easy.
thank you once again and I will be recommending your company to anyone who will listen
yours Dave a very satisfied customer
Dave, East Yorkshire, HU17, 6x6 Greenhouse 102, 29th April 2013
Many many thanks, the Greenhouse is exactly as stated. EXACTLY as the wife wanted. She's very pleased and has already recommended you to a colleague.

Regards
Bob, Ruislip, HA4, 6x4 Greenhouse 014, 23rd April 2013
Greenhouse delivered today at 10:15.

Packaging in good condition but not opened yet.

Please convey my thanks to all those responsible for dealing with this order so efficiently.

Stuart, Solihull, West Midlands, B94, 6x8 Greenhouse 120, 17th April 2013
Hi Guy

Many thanks for your email and for forwarding my email regarding the missing parts.

I've been very impressed with the service your company offers and appreciate you emailing the Customer Services department on my behalf.

Thank you very much for your help.

Kind regards

Sue, Bromsgrove, Worcestershire, B61, 6x8 Greenhouse 01, 9th April 2013
JUST TO LET YOU KNOW THAT I RECIEVED MY DOWN PIPES FOR MY GREENHOUSE THANK YOU ONCE AGAIN FOR A GREAT SERVICE
Roger, Betws Y Coed, Conwy, LL24, 6x8 Greenhouse 01, 1st April 2013
Hello Guy, I received the parcel today with the replacement panel and clips. Thank you for your prompt service it is much appreciated.
Roger, Redditch, Worcester, B98, 6x4 Greenhouse 025, 28th March 2013
Greenhouse arrived today! Thank you.
Oh, I have posted a message on Money Saving Experts website (Praise vent and warnings) to tell everyone about the excellent service!
Thank you!
Carol, Blackwood, Caerphilly, NP12, 6x8 Greenhouse 01, 12th March 2013
EXTRA NOTE:- THIS CUSTOMER'S REVIEW ON MONEYSAVINGEXPERT.COM IS REPRODUCED BELOW.
I purchased my son a greenhouse from www.summergardenbuildings.co.uk on Sunday evening. I was a bit hesitant as I have never heard of this company.
I am impressed!
The website was clear and easy to use and the payment process straightforward.
I stupidly forgot to leave my email addy and someone from the company phoned first thing Monday to confirm the order and delivery day, and to ask if there was a safe place to leave the items if no-one was in.
The items arrived today (all present and correct).
So well done summergardenbuildings! and Thank You
PS the price was very reasonable and no delivery charge!
EXTRA NOTE:- TO VIEW THE ACTUAL REVIEW ON MONEYSAVINGEXPERT.COM CLICK HERE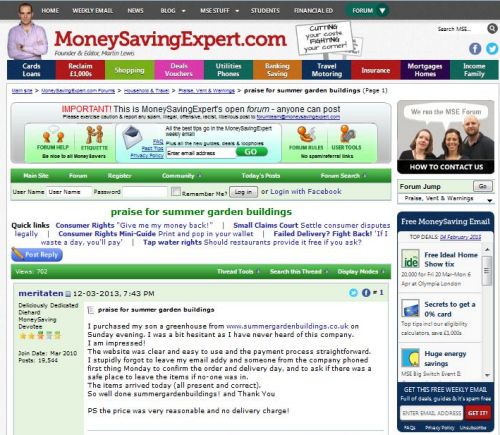 I thought that you would like to know that the contractor you put me in touch with to make the base and install my lean to did a fast and efficient job. He was enthusiastic when he came to quote for our, less than straight forward, installation and, in addition to installing in very cold weather, he moved fencing, built a matching gate and laid extra slabs to create access just as I requested. I have a lovely growing space at the beginning of the season.
Kind regards
Ruth, Peterborough, PE3, 5x12 Lean to Greenhouse 69, 4th March 2013
This building was fitted by Installer 383
We recently ordered a greenhouse 06 which has been built during half term and we are very pleased with it. One query is the doors, we are not sure if there is meant to be stoppers at the end of the door frame as the sliding doors come off the rail if opened too far. Can you advise please.
Regards
Lesley, Newton Abbot, Devon, TQ12, 8x12 Greenhouse 06, 26th February 2013
EXTRA NOTE:- DOOR STOPS ARE NOT INCLUDED AND SHOULD NOT BE NEEDED. IF REQUIRED A SPARE BOLT CAN BE EASILY FITTED TO EACH SIDE OF THE DOOR TOP RAIL, WHICH IS AN EFFECTIVE DOOR STOP.
Hi.
Thank you very much for sending the missing/lost parts.
They arrived this morning.You are a first class company do do business with.again THANK YOU

Best regards
Mick
Michael, Wolverhampton, Staffordshire, WV9, 6x6 Greenhouse 014, 13th February 2013
Click here to return to unsolicited customer emails received so far this year.