COVID-19 CORONAVIRUS PANDEMIC - We are open and taking online orders as normal, as encouraged by the government. Many products are in stock and delivered within 7-14 days. Many other products are made to order, most within 6-12 weeks, some longer. Please refer to individual product pages for up to date delivery information. All services are much slower than normal due to unprecedented volumes of orders and enquiries. Our Show Centre is temporarily closed. To contact us please
CLICK HERE
. We hope to resume our normal service soon. For more information
CLICK HERE
.
Not your postcode?
Setting the first half of your postcode shows you the full choice in your area.
In a moment you may be asked to share your location. Please allow this so that we can show you the full choice in your area (inclusive of delivery charges). You may also set your location manually using the button above.

Click this messge to hide it.
Customer Emails 2012
Scroll down to see unsolicited customer emails received in 2012 ...
... or click here to return to emails received this year.
Hi,
Just wanted to say greenhouse is excellent and a big 'Thank you' to Fitter 184, the guy who installed it.
The whole customer service is excellent!! Can not wait to get going!
Thank you,
Julie, Ashton-under-Lyne, Lancashire, OL6, 5x6 Greenhouse 20, 6th December 2012
This building was fitted by Installer 184
Just to say many thanks for your prompt delivery and service , having been let down previously by a company which took my money without delivering my order its good to know that there are some honest people out there. thanks again.
Mike, Colchester, Essex, CO4, 6x8 Greenhouse 101, 28th October 2012
Thank you for the speedy delivery of my 6x4 lean to greenhouse. I ordered it on the sunday and it was delivered on the wednesday - may i add we live in the highlands not far from the isle of skye !
It took me 2 days to construct- completely on my own. I am a woman in my fifties and only 4ft10 high!!!!!!
Im very proud of myself.
I hope this inspires others.
Now can i order some lovely autumn weather !
Shirley, Ratagan, Kyle, IV40, 4x6 Lean to Greenhouse 045, 1st October 2012
Just wanted to drop a quick email further to my Ebay feedback. My Greenhouse is now erected and looking absolutely fabulous!!! I am so happy with my purchase and what a bargain! I have never had a greenhouse before and I just can't wait till early next year now to get some thing growing. However have just planted a few lettuce to see if I can get them to grow over the next couple months. Anyway, I just wanted to say a BIG THANK YOU, I LOVE IT!!!!!!!!!!!!!
Regards
Mel, Wyboston, Bedfordshire, MK44, 8x11 Greenhouse 62, 1st October 2012
EXTRA NOTE:- THIS CUSTOMER PURCHASED AN EX DISPLAY GREENHOUSE AT A REDUCED PRICE.
I felt I would like to write & tell you how satisfied I have been with my greenhouse & also the customer service. I ordered a greenhouse in March 2011, but after putting the order through, I decided I would prefer a larger sized one. The gentleman I spoke to was so understanding & didn't make me feel uncomfortable although I knew I must be causing extra work. A lady rang to check the time for delivery would be suitable and again I was impressed by her friendly helpful manner. I don't know if yours is a family firm, but it certainly has the feel of one.
This is the first greenhouse I have owned & I've been so pleased with it, and amazed how many plants I've been able to overwinter. I recommended you to friends & they bought the same one as me. I can assure any prospective customer that all the parts were in the box, and they will be pleased with the product.
Thank you again
Anne, Northenden, Manchester, M22, 6x8 Greenhouse 101, 26th September 2012
DEAR SIR
WE RECEIVED THE GREENHOUSE 21st AUGUST WITH THANKS
WE WERE DELIGHTED WITH YOUR SERVICE, WE WILL DEFINITELY ORDER AGAIN FROM YOU AND PASS ON YOUR E-MAIL ADDRESS TO FRIENDS AND RELATIVES.
THANK YOU AGAIN,
Robert, New Luce, Dumfries and Galloway, DG8, Polytunnel 270, 22nd August 2012
Dear Sirs
Took delivery of the greenhouse last Thursday and completed installation today. Thanks for your help in completing this order.
Regards
Gilbert, Dumfries, Dumfries & Galloway, DG1, 5x6 Greenhouse 20, 20th August 2012
Delivered already!! Fantastic service.
E D L, Lochyside, Fort William, PH33, 2x4 Lean to Greenhouse 311, 3rd August 2012
Hi Barry
We are now planting our greenhouse and it is excellent. We are very pleased and it is better than we expected.
The guys who put it up were excellent. Please could you confirm the price they quoted for assembly? They said it was £1600 and we thought it was £1500 so we agreed to meet half way. However if it was £1600 I will send the difference.
Many thanks
Glyn, Newtown, Powys, SY16, 12x39 Greenhouse 37, 20th July 2012
This building was fitted by Installer 361
Just finished putting up my 8 x 6 greenhouse.
Thank you for your excellent service. The product is excellent value for money compared to
your rivals and the instructions not too hard to follow!
Best wishes
Mike, Great Yarmouth, Norfolk, NR31, 6x8 Greenhouse 101, 8th May 2012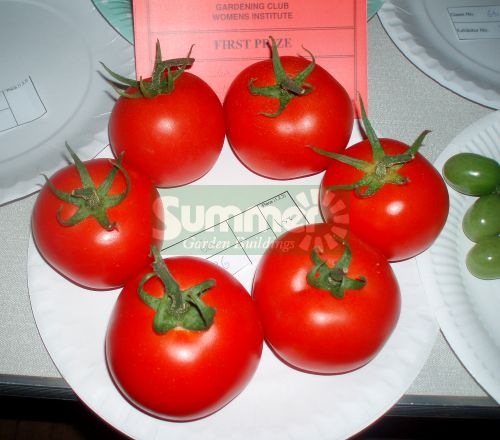 Hi, Thank you very much.
It is much appreciated, now I hope to grow more prize winning tomatoes.
Variety Cedrico.
Regards,
Roy.
Roy, Bromsgrove, Worcestershire, B61, 8x10 Greenhouse 06, 24th April 2012
EXTRA NOTE: THIS CUSTOMER SENT A PHOTO OF THE PRIZE TOMATOES HE GREW IN THE GREENHOUSE. ORIGINALLY ORDERED IN 2011, HE ASKED US TO SUPPLY REPLACEMENT DOOR SLIDERS IN APRIL 2012.
The greenhouse is erected and standing proud. In fact the inside is beginning to look green and colourful. It looks good and I am satisfied with the installation.
Installer 152 braved the weather and completed the job on Saturday, sadly I understand that he did have a number of further problems, particularly with issues over missing items etc.
The one he was not able to resolve from his own personal box of bits, was sufficient beading for the edge to the roofing. He thus fitted the clips at the back of the roof edge and made sure that the front did look in order.
One can only express praise for his persistence and dedication to the task required and his own personality.
He is a man you can be proud of as a representative.
Regards,
Bruce, Kidderminster, Worcestershire, DY10, 7x8 Greenhouse 21, 22nd April 2012
This building was fitted by Installer 152
Thanks for the reply, all missing parts have been supplied and fitted. A very pleased customer.
Kind regards
David, Andover, SP10, 6x8 Greenhouse 101, 17th April 2012
My greenhouse and was erected by Installer 149 last Saturday and I'm delighted firstly with the greenhouse and also with the quality of service provided by your recommended installer. He arrived on time was very polite and constructed the greenhouse very swiftly for a very sensible fee
Unfortunately one piece was missing from the greenhouse which holds one of the automatic vent opener in position and I attach a page of the installation instructions indicating the missing part
Please could you send me one as soon as possible so I can complete the installation.
Frank, Oxted, Surrey, RH8, 6x8 Greenhouse 13, 16th April 2012
This building was fitted by Installer 149
EXTRA NOTE:- THE MISSING PART WAS SENT ON 18TH APRIL 2012.
I have received the Greenhouse 101 and can confirm it is a brilliant product and the service I have experienced from Summer Greenhouses has been top notch!
However, I seem to be missing parts E11 (2 off) I have to say I'm not sure whether I have misplaced them or they were not in the packaging.
Kind regards
Bryan, Scunthorpe, DN16, 6x8 Greenhouse 101, 16th April 2012
EXTRA NOTE:- THE MISSING PARTS WERE SENT ON 18TH APRIL 2012.
Greenhouse arrived safely"havent yet unpacked everything, but boxes didn't appear to be damaged, carrier E-mailed me to inform me package was on it's way, very pleased with your service, many thanks".
John, Edenbridge, Kent, TN8, 6x8 Greenhouse 101, 12th April 2012
Thank you for the recent Greenhouse that I purchased through yourself. On the whole, I am delighted with the product.
I wondered if you had any spares though as I was putting the rubber seal on the door, I broke on of the black plastic runners at the bottom of the door and the door is a little lopsided now. Trying to resolve this, I broke the screw head which secures the black plastic runner to the door side. If you have a few spare greenhouse nuts and bolts I would appreciate this.
Many thanks
Hugh, Lenzie, Glasgow, G66, 6x8 Greenhouse 101, 6th April 2012
EXTRA NOTE:- AS PART OF OUR SERVICE, WE WILL PROVIDE ANY PARTS YOU NEED TO COMPLETE YOUR GREENHOUSE WITH NO QUIBBLES.
I dealt with the helpline and they did send the components.
Thank you for your prompt response to my complaint.
Dorothy, Hatton-Peterhead, Aberdeenshire, AB42, 6x4 Greenhouse 103, 3rd April 2012
Thank you very much. The staff at your helpline were extremely helpful and have arranged for the parts to be sent to me.
Best regards
Mr RC, Rhyl, LL18, 6x8 Greenhouse 101, 1st April 2012
EXTRA NOTE:- THE DOOR RUNNERS WERE DAMAGED SHORTLY AFTER INSTALLATION. WE WILL PROVIDE ANY PARTS YOU NEED TO COMPLETE YOUR GREENHOUSE WITH NO QUIBBLES.
I want to confirm how happy I am with the services of Installer 194, who you recommend to lay the base and erect the greenhouse that was purchased from yourselves. Installer 194 and his team were friendly, more than polite, as well as being very professional. I would be most grateful if you would please pass my comments to Installer 194.
Yours
Roy, Seaham, Co Durham, SR7, 6x8 Greenhouse 13, 25th March 2012
This building was fitted by Installer 194
thanks for your quick reply, just called them and they are sending it out free of charge! thanks again, you have been amazing! :-)
have a wonderful day
Sabina, Forres, Moray, IV36, 4x6 Lean to Greenhouse 04, 19th March 2012
EXTRA NOTE:- ON SUNDAY MARCH 18th WE RECEIVED AN EMAIL REQUEST FOR PARTS WHICH IS REPRODUCED BELOW. THE DOOR ROLLERS AND GLAZING GASKET WERE SENT SHORTLY AFTERWARDS.
is it possible to have two of those plastic runners that go on the bottom of the door please and more of the sealing strip ? need to fit 2 more windows and have run out..
thanks!
Sabina
Dear Sirs

Our lovely new greenhouse was erected last week as booked. We are very pleased with it.
Thank you

Jane, Little Chalfont, Buckinghamshire, HP6, 6x10 Greenhouse 591, 18th March 2012
Many thanks - superswift response!
Page 7 is different to that on your website but correctly matches the parts I have received - so I can now carry on assembling.
Jim, Ruabon, Wrexham, LL14, 6x8 Greenhouse 101, 14th March 2012
EXTRA NOTE:- THIS CUSTOMER HAD DOWNLOADED THE ASSEMBLY INSTRUCTIONS FROM OUR WEBSITE BEFORE DELIVERY. A DIFFERENT VERSION OF THE INSTRUCTIONS WAS DELIVERED WITH HIS GREENHOUSE. HE CONTACTED US FOR CLARIFICATION.
Ordered a greenhouse on Tuesday and it was delivered free on Wednesday and Thursday. Really pleased with whole deal and will certainly recommend you to others
Thank you.
David, Anglesey, Gwynedd, LL59, 8x10 Greenhouse 090, 13th March 2012
Hi!,
Just a short note to thank you for the wonderful service I had from your company.
Our greenhouse has now been erected and we are delighted with it.
Thanks go to Installer 139 for installing and to delivery man for prompt delivery and to you phone team for all the help we received.The only down side was we never heard from Installer 193, but Installer 139 was on the ball.
I would have no hesitation in recommending your company to anyone.
Thank you once again.
Barbara, Stewarton, East Ayrshire, KA3, 6x8 Greenhouse 022, 12th March 2012
This building was fitted by Installer 139
Hello

Just a note to let you know that the greenhouse arrived safely today, and that all the parts are present. The only things we haven't counted are the bolts and the clips, but there seem to be plenty of both!

Many thanks for your excellent and helpful service.
Best wishes
Carol, Horsham, West Sussex, RH13, 6x8 Greenhouse 101, 7th March 2012
Hi. Just a quick note to you advising greenhouse delivered 08.30 this morning, no problem with packing etc. Value for money 100%. Instructions excellent, step by step. Thank you for your telephone call to advise the state of my order. Cannot thank you enough.
Kim, Pontypridd, Mid Glamorgan, CF38, 6x8 Greenhouse 101, 22nd February 2012
ordered 19/2 delivered 21/2. What a first class service, received a call yesterday confirming my order, greenhouse staging and thermometer arrived today and I am extremely pleased with it, instructions easy to follow and the finished product is great! thanks very much! Won't hesitate to order from you again
Dianne, Rotherham, South Yorkshire, S64, 2 tier Wooden Staging, 21st February 2012
Hello,
I just wanted to confirm that the greenhouse and accessories have just been delivered.
I just want to say that it is a pleasure dealing with your company. You have fantastic customer service and your website is packed to the brim with useful information. I'm really glad I chose to buy this greenhouse from you! I hope other companies take note of the way you run your business.
Best wishes
Richard, Stansted, CM24, 6x8 Greenhouse 101, 20th February 2012
I would just like to thank you for the efficient service you provide. Lost panels from the greenhouse, contacted you, ordered, and had them delivered a couple of days later, what service. thank you very much
Janet, Ardrossan, North Ayrshire, KA22, Polycarbonate Glazing Sheets, 16th January 2012
Click here to return to unsolicited customer emails received so far this year.