Not your postcode?
Setting the first half of your postcode shows you the full choice in your area.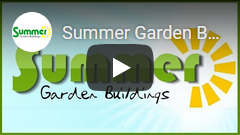 Customer Emails 2009
Over the years we have received many unsolicited letters from delighted customers. Of course, we don't expect you to take our word for it - WE PROVE IT - we show you the actual letters. If you want to see positive proof of our high standards of service click here to see some of our Customer Letters ...
In recent years more and more customers express their appreciation by email.
Scroll down to see some of the unsolicited emails we received in 2009 ...
Click here to return to emails we have received so far this year
Dear Summer Garden Buildings
Just a note to say the missing parcel arrived safe and sound this morning.
Thankyou for all your help tracking it down, excellent communication!
Will contact you when it is time to up grade- if this one earns its keep then the next one should be a proper wooden greenhouse.
thanks again
Regards
Christopher, Eastleigh, Hampshire, SO53, 6x4 Greenhouse 103, 25th November 2009
Thank you for delivery of the greenhouse and base.
Eileen, South Croydon, CR2, 6x8 Greenhouse 101, 26th October 2009
Dear summer garden buildings,
Thank you for the fantastic greenhouse, well worth the money. Instructions were fairly easy to follow - I am well chuffed with it. My only problem is that one of the polycarbonate panels was damaged. The panel is the one for the roof that goes below the vent. It has a hole in it. Am I able to get a replacement panel from you. I am able to provide photographic evidence if required? Many thanks again for a great item.
Stacey, Forres, Moray, IV36, 6x6 Greenhouse 02, 29th September 2009
EXTRA NOTE:- A REPLACEMENT PANEL WAS DISPATCHED FREE OF CHARGE ON 29th SEPTEMBER.
hi, i recently bought 6x8 greenhouse for fathers retirement unfortunately grandchildren lost glazing clips and end pieces can i buy these seperately . PS first class service
Frances, Motherwell, Lanarkshire, ML1, 6x8 Greenhouse 101, 18th September 2009
EXTRA NOTE:- REPLACEMENT PARTS WERE DISPATCHED FREE OF CHARGE ON MONDAY 21st SEPTEMBER.
Dear Sir/Madam

Further to my letter of the 16th June 2009, the New Rear Section "D" was received on the 18th June 2009, just one hour before we left for a weeks holiday.

The New section is correct and fits perfectly. My Green House is complete and very satifactory. We are very pleased with the final results.

Please advise Helen of your Customer Services, who has been trying to contact us during our holiday period, that all is well, and satisfactory.

Thanking you all for you kind assistance & services,

Yours Faifthfully,

Brian & Julie, Cambridge, CB24, 5x6 Greenhouse 20, 30th June 2009
Dear Sir/ Madam,

I should like to take this opportunity to thank you for the 1st class service that you have given me. I received the order this morning, I look forward to doing business with you again in the future, Thank you once again
The very best regards.

Albert, Bideford, Devon, EX39, Greenhouse glazing, 24th June 2009
delivery arrived before midday today - all packages in perfect condition. I now look forward to seeing it all put together !!
Thankyou very much for your business, it's been a pleasure.
Chris, High Peak, Derbyshire, SK23, 6x8 Greenhouse 101, 19th June 2009
Just a note to say we are delighted with our greenhouse its been up a week and already beetroot is sprouting.
Steven, Chesterfield, Derbyshire, S43, 6x8 Greenhouse 101, 18th May 2009
dear sir
Just received greenhouse, thankyou very much for such prompt and efficient service
David, Skegness, Lincolnshire, PE25, 6x6 Greenhouse 02, 18th May 2009
May I take this opportunity to thank you for such a professional and informed transaction and look forward to goods being delivered on Thurs 14th May 2009 and would not hesitate and hope to do business again in the future.
Many Thanks
Regards
Phil, Horndean, Waterlooville, PO8, 6x8 Greenhouse 101, 12th May 2009
Dear Summer Garden Buildings,
Downpipe kit now received as promised. Greenhouse is fabulous - thank you.

Jean, Dorrington, Shrewsbury, SY5, 8x10 Greenhouse 16, 21st April 2009
Many thanks - downpipes have arrived already.
Brilliant service, once again.
Roger, Worthing, Sussex, BN12, 6x8 Greenhouse 101, 5th April 2009
EXTRA NOTE:- THE GREENHOUSE WAS ORDERED IN 2008. THE DOWNPIPES WERE ORDERED ON FRIDAY 3rd APRIL 2009. AS PART OF OUR SERVICE, ANY CUSTOMER WHO PURCHASES A BUILDING FROM US CAN ADD ACCESSORIES LATER EVEN IF THE ACCESSORY IS NOT NORMALLY SOLD SEPARATELY.
Hi!
The greenhouse arrived as you stated. We are absolutely delighted!
We set it up at the weekend, and couldn't be happier. Huge thanks, regards and, best wishes for the future in these uncertain times.
Keep up the good work!
Steve & Lynne, Longworth, Oxfordshire, OX3, 6x8 Greenhouse 101, 24th March 2009
Thanks Phill, fixing kit recieved.
Your company has been a pleasure to deal with!
Regards
Steve, Milnthorpe, Cumbria, LA7, 6x8 Greenhouse 101, 20th March 2009
Thank you for the excellent service the items were delivered early Monday morning could not have asked for better service once again thank you
Martin, Manchester, M11, 6x4 Greenhouse 103, 11th March 2009
Dear Paul,

Thanks for your email.I have now had a chance to check the items delivered and those which I thought were awaited were indeed between the two stagings as you advise.So,all seems to be here,thank you.A most impressive service I must say.

Yours aye,
Alan, Eyemouth, Berwickshire, TD14, 6x8 Greenhouse 101, 13th February 2009
EXTRA NOTE:- LATER ON THE SAME DAY ANOTHER EMAIL WAS RECEIVED FROM THIS CUSTOMER WHICH IS REPRODUCED BELOW:
Dear Paul,

I should have added that I originally rang (SUPPLIER NAME) to order one of their greenhouses but they were so unhelpfull I aborted the order and rang you chaps for information on the greenhouse which I eventually ordered.The person with whom I spoke in your greenhouse section was so friendly and helpful (without trying to "push" me into an order) my wife and I decided to order from you online after we had discussed the options.

(SUPPLIER NAME)'s loss (and poor public relations) was your company's gain!

Yours aye,

Alan
James,
Thank you very much for replacing the wrong parts so quickly. I wish the rest of the world operated like you.
Regards
John, Camborne, Cornwall, TR14, 6x8 Greenhouse 12, 10th February 2009
Dear Sir,

Just letting you know my Greenhouse has arrived safely and all seems intact, thank you for a very professional on-line service. I am looking forward to putting the greenhouse together this weekend, weather permitting.

Yours sincerely
Peter, Horsham, West Sussex, RH12, 6x4 Greenhouse 103, 9th January 2009