Not your postcode?
Setting the first half of your postcode shows you the full choice in your area.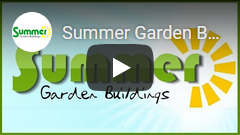 Customer Emails 2007
Over the years we have received many unsolicited letters from delighted customers. Of course, we don't expect you to take our word for it - WE PROVE IT - we show you the actual letters. If you want to see positive proof of our high standards of service click here to see some of our Customer Letters ...
In recent years more and more customers express their appreciation by email.
Scroll down to see some of the unsolicited emails we received in 2007 ...
Click here to return to emails we have received so far this year
Dear Summer
Good service, no problems erecting greenhouse, very satisfied with purchase
Lesley, Great Yarmouth, NR31, 6x8 Greenhouse 101, 7th October 2007
Paul / Kerry,
Recieved delivery as requested, many thanks. The greenhouse is now fully constructed and is looking good. Unfortuately on attempting to construct the second heavy duty staging I noticed that there are two items missing 1 x K3-1 (Short Horizontal Strut) and screws No6 x 6mm (Item Code no;66).
Sorry about not noticing this in the first place, grateful if you could send parts so that I can complete construction, POC 01202 (PHONE NUMBER).
Regards
Pete, Broadstone, Dorset, BH18, 6x8 Greenhouse 101, 23rd August 2007
Many thanks for the speedy delivery of the greenhouse - it arrived on Tuesday as agreed ! We have struggled with the instructions - as do most people - although the frame is now fully errected & we are filling in with the "glazing". Can we suggest that it would be great if the holes in the frame had already been drilled to go into the base as obviously all the other holes had been drilled & treated - just a suggestion ! However, great price & great service
Many thanks & regards
Diana and Chris, Liskeard, Cornwall, PL14, 6x8 Greenhouse 101, 7th May 2007
EXTRA NOTE:- UNFORTUNATELY THE HOLES CANNOT BE DRILLED IN ADVANCE BECAUSE THE EXACT POSITION OF FIXING HOLES VARIES FROM SITE TO SITE AND CARE IS REQUIRED ESPECIALLY WHEN FIXING INTO A BRICK BASE.
Dear Sirs
My greenhouse is built and I am very pleased with it. However I do have a couple of comments to make which may (or may not) be of interest.
(a) The "braces" look to be doing a good job, however, I wanted to put a louvred panel in "on the bottom" of one of the sides. My greenhouse is 6x8 and the positioning of the braces did not therefore give me a clear section of glazing in which to position the louvred panel. The brace, in its alloted position would not fit over the frame of the louvre. Swapping the pre-drilled positions of the braces, so that the tops to slant towards the middle of the eaves, and the bottoms towards the corner posts, or making the braces slant in the same direction, would over come the need to either remove one brace altogether, or to shorten it so that it only covers one glazed section. That would look so much better, and be easier to put together!
(b) The pre-drilled holes in the door track did not line up correctly with the door track support whichever way we set the door to open. We tried adjusting the whole frame, but to no avail, and had to redrill the holes in a different position.
(c) The vertcal door frame supports seem to me to be rather flimsy, given that they are subject to constant use. It would be a great improvement if they were made more sturdy.
I hope these comments are useful.
Best wishes
Maureen, Hellingly, East Sussex, BN27, 6x8 Greenhouse 23, 14th March 2007
EXTRA NOTE re (a) - TO ENSURE RIGIDITY BRACES SHOULD NOT BE CUT OR SHORTENED.
EXTRA NOTE re (b) - THIS IS AN ISOLATED PROBLEM NOT REPORTED BY ANY OTHER CUSTOMERS.
EXTRA NOTE re (c) - THIS COMMENT HAS BEEN FORWARDED TO THE TECHNICAL DEPARTMENT.
Just to thank you for the very quick delivery of the 6ft by 4 ft lean to greenhouse...now erected with no problems and firmly screwed into wall and flag base..I am very pleased with it..though I did break one of the u profiles that fits over the end of glazing..but no worry it is only a small item (being cack handed i have done great only breaking one little insignificant item) I have glued it back together..the greenhouse lean to is.."value for money"..and it looks great...thanks again
Frank, Workington, Cumbria, CA14, 4x6 Lean to Greenhouse 04, 18th February 2007
Thanks for the prompt service the greenhouse looks to be of good quality
Don, Droitwich Spa, Worcestershire, WR3, 6x8 Greenhouse 101, 16th February 2007