COVID-19 CORONAVIRUS PANDEMIC - We are open and taking online orders as normal, as encouraged by the government. Many products are in stock and delivered within 7-14 days. Many other products are made to order, most within 6-12 weeks, some longer. Please refer to individual product pages for up to date delivery information. All services are much slower than normal due to unprecedented volumes of orders and enquiries. Our Show Centre is temporarily closed. To contact us please
CLICK HERE
. We hope to resume our normal service soon. For more information
CLICK HERE
.
Not your postcode?
Setting the first half of your postcode shows you the full choice in your area.
In a moment you may be asked to share your location. Please allow this so that we can show you the full choice in your area (inclusive of delivery charges). You may also set your location manually using the button above.

Click this messge to hide it.
Customer Emails 2015
Scroll down to see unsolicited customer emails received in 2015 ...
... or click here to return to emails received this year.
Just a seasonal greetings to your company. I am delighted with the greenhouse I ordered from you last May and wont hesitate to recommend you to any friends looking for something similar.
Christmas greetings to you all.
Hilary, Rothesay, Argyll and Bute, PA20, 6x4 Greenhouse 103, 20th December 2015
Thank you very much as usual nice polite service quiet rare these days
Brinley, Swansea, SA6, Greenhouse Staging 344, 8th December 2015
This was bought as a present so I will leave feedback once opened next weekend. But I must CONGRATULATE you on the delivery system you have - how fantastic to know when something is arriving. I thought it was good that we were able to arrange a convenient day but then to reduce to a small slot was just amazing. Why can't others do the same?
Well done to you!
Lynda, Northallerton, North Yorkshire, DL6, Foldaway Staging 341, 29th November 2015
Good evening,
I'd just like to say thank you for the prompt refund to my account.
Regards
Lionel, New Malden, Surrey, KT3, 6x10 Greenhouse 120, 27th November 2015
EXTRA NOTE:- THIS CUSTOMER ORDERED THE SAME GREENHOUSE TWICE BY ACCIDENT. WE CONTACTED HIM THE NEXT MORNING FOR CLARIFICATION.
Thankyou for dealing with the missing part of my order so promptly. The staging arrived this morning.
Rosemary, Birmingham, B30, 5x8 Greenhouse 18, 21st October 2015
Just to let you know - everything arrived exactly on time as requested, no damage to anything. Also the fitter came out when required and was brill, worked hard and did an excellent job. Green house look great. All in all you have one very satisfied customer. Thank you all very much.
Kind Regards
Jane, Baschurch, Shrewsbury, SY4, 6x8 Greenhouse 005, 20th October 2015
This building was fitted by Installer 147
Many thanks for your very helpful and friendly service
Kind regards
Alison, Kempsey, Worcester, WR5, Greenhouse Staging 346, 20th October 2015
Thank you very much marvellous service nice to speak to you
Brinley, Swansea, SA6, 6x8 Greenhouse 014, 19th October 2015
THANK YOU

We ordered our greenhouse on Wednesday evening, I was contacted by one of your representatives yesterday to organise delivery and chanced my arm to see if delivery for today might be an option, I was told not to expect it but you would do your best. Our greenhouse has just been delivered!!! Thank you again, we are thrilled. This is good old fashioned customer service and it's very very much appreciated.
Kindest regards
Velma, Wolverhampton, West Midlands, WV6, 6x4 Greenhouse 028, 16th October 2015
Dear Sir
I would like to thank to gentleman whom I spoke to on the telephone regarding difficulty in erecting the Lean-to Greenhouse 041.
After many hours of trying to understand the instructions and diagrams of the greenhouse, I spoke to the gentleman (who's name evades me) and he kindly sent several photos he had taken of the front section - door etc. - and I was a huge help.
I am pleased to say the said greenhouse is now up and running.
Thank you once again.
David, Worcester, WR4, 2x4 Lean to Greenhouse 041, 14th September 2015
Thanks again for excellent service.
Delivery received and in order.
Regards
Martin, Wilsden, West Yorkshire, BD15, Greenhouse Louvre Vent, 11th September 2015
Excellent service. Many thanks for your prompt attention.
Regards,
Martin
Martin, Wilsden, West Yorkshire, BD15, 6x8 Greenhouse 005, 4th September 2015
hi
my greenhouse was delivered today-great service by the way. as i was checking my documents, i realised that the gas heater had not been delivered prior to the greenhouse as stated in the email. would you update me on the progress of the heater please
julie
Julie, Bramcote, Nottingham, NG9, 8x6 Greenhouse 602, 4th Sepember 2015
EXTRA NOTE:- HEATERS ARE SUPPLIED SEPARATELY WITH NEXT DAY DELIVERY ON REQUEST
Hi
Just like to say a thank you the part that was missing from my green house order arrived on Sat 15 Aug and the greenhouse completed today Sun 16. So it soon will be happy Gardening soon
Hugh, Brighton, BN1, 8x12 Greenhouse 122, 16th August 2015
Thank you for great service even with missing part all sorted quickly, greenhouse great
Well pleased .. Thanks
Regards
Angela, Ebbw Vale, Gwent, NP23, 6x6 Greenhouse 102, 14th August 2015
Hi
I have just had my new greenhouse installed ( looks fantastic ! ) and my installer says that one of the 3 auto vents is not working . He beleives there is a problem with the cylinder .
Thanks
Bob, Whitley Bay, Tyne and Wear, NE25, 8x11 Cedar Victorian Greenhouse 655, 29th June 2015
EXTRA NOTE:- A REPLACEMENT CYLINDER WAS POSTED ON 29th JUNE
dear sir,just to let you know i received the greenhouse on time and in good order. it has now been erected successfully and i am very impressed with the quality of the product. thank you very much for your prompt and efficient service. yours sincerely
Royston, Chester, CH1, 6x4 Greenhouse 014, 24th May 2015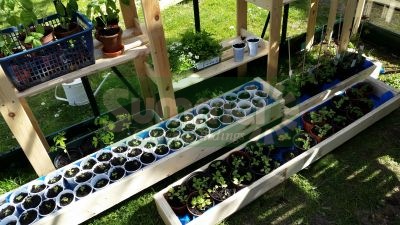 Dear Summer Garden Buildings
Thank you so much for the efficient and helpful service from you fir the ordering and delivering of my new greenhouse. Everything was very smoothly dealt with from my initial query, ordering and delivery.
The greenhouse is now erected in my garden and already full of seedlings and plug plants. I thought you might be interested to know that I made very good use of the sturdy wooden packaging which the glass arrived in. With the addition of a few nails , use of a saw and hammer it has been converted into three useful planting trays for my potted up plug plants. I am sure you could use that on your advertising website. "How to easily upcycle a pallet"
Photo of upcycling attached.
Thanks again
Erica, Balsham, Cambridge, CB21, 6x8 Greenhouse 005, 6th May 2015
Our greenhouse shelving has been delivered this morning and we are delighted with the quality. Thank you so much for such prompt service.
Rosemary, Sittingbourne, Kent, ME9, Foldaway Staging 341, 6th May 2015
Hi Jonathan we have at long last managed to erect the lean to greenhouse we bought recently but this will not be possible without your guidance and patience. Getting ready to start on the second. Once again thank you very much for your help
Regards
Melvin, Amersham, Buckinghamshire, HP6, 2x4 Lean to Greenhouse 041, 1st May 2015
EXTRA NOTE:- THIS CUSTOMER PURCHASED TWO OF THE SAME ITEM.
Thanks,John...it was helpful to speak to you. ,and your pix were helpful .
As it happened i managed to reolve the problem...the pillars were wrongly labelled "left" and "right" .
Positive outcome !
Best wishes
Jim, Lanark, ML11, 4x10 Lean to Greenhouse 34, 30th April 2015
Just wanted to say many thanks for the great customer service and product. I have finally managed to get the greenhouse erected. It fitted together perfectly and I am thrilled with the result.
Thank you.
Lynn, Retford, Nottinghamshire, DN22, 6X8 Greenhouse 014, 27th April 2015
Dear Summer Garden Buildings

Thank you so much for the service and supply of our Greenhouse. A mad rush to get it set up before I had to fly out of the country on a business trip, but all works perfectly well and it is now full of produce that is rapidly growing. However, I do have one problem, I seem to have misplaced the two catches that hold the window opening arm. Please could you send me replacements and advise cost so I can make payment.

Once again, I cannot rate you highly enough on your overall service, from ease of order to deliivery and then to quality of final product.

Thank you
Tony, Calne, Wiltshire, SN11, 6x8 Greenhouse 014, 24th April 2015
A quick message to say thanks. I thoroughly enjoyed building my greenhouse today. Instructions were great, it went up quick and it looks amazing.
Thanks
Mally
Malcolm, Chester-le-Street, Durham, DH2, 6x8 Greenhouse 114, 24th April 2015
Thank you for your early reply your service is excellent
Shane, Ulverston, Cumbria, LA12, 6x8 Greenhouse 101, 20th April 2015
EXTRA NOTE:- ON 19th APRIL 2015 THIS CUSTOMER SENT AN EMAIL REQUESTING GLAZING INSTRUCTIONS WHICH IS REPRODUCED BELOW. THE INSTRUCTIONS WERE EMAILED ON THE SAME DAY.
Received on time in good condition.finshed erecting tonight,opened last box, laid contents on floor . No instructions on glazing. Could u email instructions Many thanks Shane
Many thanks for the greenhouse it was easy to erect and very strong. Filled with tomatoes and show leeks /onions keeping the heat very well and looking forward to seeing the end results
Anthony, Hexham, NE47, 6x8 Greenhouse 014, 5th April 2015
Thank you for your prompt and efficient service. My order of three twin-wall polycarbonate sheets was safely delivered earlier today, as promised by telephone message yesterday.
I will certainly look to use you again should I need garden buildings/accessories and will strongly recommend you to my friends and colleagues.
Thanks again
John, Chesterfield, Derbyshire, S40, Polycarbonate Glazing Sheets, 25th March 2015
Hi
Thank you very much for your prompt service on the phone this morning ,everything is ok
I will be recommending you to everyone
Thanks again
Nigel, Folkestone, Kent, CT19, 6x6 Greenhouse 014, 12th March 2015
Just brought leantoo greenhouse from you very please but your instructions could be little clearer I have allotment page on Facebook and have shared this greenhouse and your website so I think you may get some orders x
Emma, Longfield, Kent, DA3, 2x4 Lean to Greenhouse 041, 7th March 2015
Thanks Paul
That is fantastic-I'm so grateful.
Thanks again
Peter, Hexham, Northumberland, NE47, 6x10 Greenhouse 114, 26th February 2015
EXTRA NOTE:- ON 17th FEBRUARY 2015 THIS CUSTOMER SENT AN EMAIL REQUESTING SPARE PARTS WHICH IS REPRODUCED BELOW. THE SPARE PARTS WERE DISPATCHED PROMPTLY.
I purchased a 6' x 10' Twin Wall Glazed Greenhouse from you last April (2014).
Regrettably during a storm before Christmas the green house was demolished.
I have now managed to rebuild it ( can't believe how robust it is) however have one or two pieces missing.
I shall be extremely grateful if you were able to replace the following:
10 x item 411
10 x item 412
1 x item 22
1 x item 343
1 x item 329
1 x item 344L
1 x item 344R
2 x item 981
I will of course gladly pay for the replacement items, together with postage and packaging.
Thank you for your consideration.
Peter
Dear Sir
Thank you for your very prompt and effecient service.
Very impressed.
Ian, Larne, Northern Ireland, BT40, 6x8 Greenhouse 005, 24th February 2015
Dear Guy
Apologies for previous email, the spare parts have just been delivered (good job I was home to sign for them)
Thank you for all your help and resolving the problem swiftly. Now the fun starts constructing my greenhouse.
Thank you again
Sarah, Ramsey, Cambridgeshire, PE26, 8x10 Greenhouse 090, 19th February 2015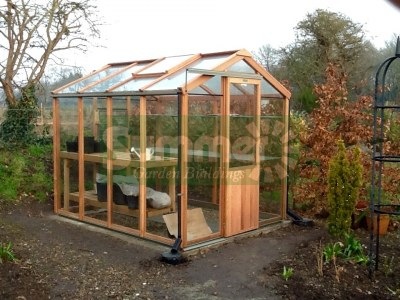 We would just like to say thank you very much for our new greenhouse. It is beautifully made.
We also thank Fitter 540 for the installation. It was a pleasure having him here.
Janet, Norwich, Norfolk, NR11, 6x8 Cedar Greenhouse 321, 14th February 2015
This building was fitted by Installer 540
Thanks for your help, after a bit of a chat with the carrier we finally have our greenhouse. Would definitely use your Company again.
Lawrence, Oxford, Oxfordshire, OX1, 6x6 Greenhouse 025, 6th February 2015
Thanks very much. Considering it was my fault, that's very good service!
Simon
Simon, Lochgilphead, Argyll, PA31, 6x8 Greenhouse 101, 5th February 2015
EXTRA NOTE:- ON 3rd FEBRUARY 2015 THIS CUSTOMER SENT AN EMAIL REQUESTING A SPARE PART WHICH IS REPRODUCED BELOW:
Hi
Everything fine and thank you so much for sending on the ground anchor kit. Much easier than drilling holes in the frame and trying to screw that down to the concrete!
I have one favour to ask:
I have broken one of the small plastic inserts by carelessly kneeling on it while assembling the door. Would it be possible for you to send me a replacement. I will happily pay postage/packing, etc.
Many thanks again. All frames assembled (except the roof) and will put it up once the snow goes away!
With best wishes
Simon
EXTRA NOTE:- OUR REPLY DATED 5th FEBRUARY IS REPRODUCED BELOW:
Hi
Thank you for contacting us.
We do not stock this item ourselves but I have contacted the factory who have agreed to post you one free of charge as a goodwill gesture.
This should arrive in the next few days.
Regards
All in order, and have just received the goods. Excellent service, thank you and sorry for the delay in replying I was called away from home.
Barry, Southampton, Hampshire, SO40, Polycarbonate Glazing Sheets, 4th February 2015
Click here to return to unsolicited customer emails received so far this year.