COVID-19 CORONAVIRUS PANDEMIC - We are open and taking online orders as normal, as encouraged by the government. Many products are in stock and delivered within 7-14 days. Many other products are made to order, most within 6-12 weeks, some longer. Please refer to individual product pages for up to date delivery information. All services are much slower than normal due to unprecedented volumes of orders and enquiries. Our Show Centre is temporarily closed. To contact us please
CLICK HERE
. We hope to resume our normal service soon. For more information
CLICK HERE
.
Not your postcode?
Setting the first half of your postcode shows you the full choice in your area.
In a moment you may be asked to share your location. Please allow this so that we can show you the full choice in your area (inclusive of delivery charges). You may also set your location manually using the button above.

Click this messge to hide it.
Customer Emails 2014
Scroll down to see unsolicited customer emails received in 2014 ...
... or click here to return to emails received this year.
Dear Sir, received goods in good time and very pleased with the service once again.
Kind regards
Christopher, Meopham, Gravesend, DA13, Polycarbonate Glazing Sheets, 20th December 2014
Dear Sir,
Just a polite mail to say that your greenhouse has now been installed by the installer to our complete satisfaction. Your professionalism in delivery and safety protocol was exemplary.
We now require to receive the insulation clips that are outstanding as soon as possible.

Many thanks for your splendid service.
John, Sheringham, Norfolk, NR26, 6x8 Greenhouse 005, 22nd November 2014
This building was fitted by Installer 140
Dear Sirs
Thank you so much. I am very impressed with the greenhouse, the service and
the price of the completed item.
Regards
Julie, Aylesford, Kent, ME20, 6x8 Greenhouse 005, 22nd October 2014
Thank you so much Guy,
We found the greenhouse quite difficult to erect ( technophobe my son calls me).
However, your service has been first class.
Thank you very much.
With regards
Jacqui
Jacqui, Bishopsteignton, Devon TQ14, 8x10 Greenhouse 06, 18th October 2014
EXTRA NOTE:- THIS GREENHOUSE WAS ORIGINALLY PURCHASED ON 6th DECEMBER 2013
-------------------- PREVIOUS EMAIL --------------------
On 17 October 2014 Summer Garden Buildings wrote:
Hi Jacqui,
Thank you for your email.
I am sorry to hear that you have a broken door runner on your greenhouse.
I have checked with stores and they have a couple of spares.
This part is so small that it is difficult for us to price them up individually so on this occasion, as a gesture of goodwill, we will send you a few in the post at no charge.
Stores will send them out today for you so you should receive them early next week. Hopefully this will solve the problem for you (and give you a few spares if you should ever need them in the future).
Kind regards
Guy
Summer Garden Buildings
-------------------- PREVIOUS EMAIL --------------------
On 17 October 2014 Jacqui wrote:
Dear Sir/Madam
Re 10 x 8 Aluminium/Polycarbonate Greenhouse 06
Spare part required Door Runner.
This part has broken, is it possible for me to purchase a replacement.
Thankyou for your assistance,
Jacqui
received greenhouse excellent first rate delivery xx
Margaret, Newcastle, Tyne and Wear, NE19, 6x4 Greenhouse 014, 26th September 2014
Good morning!

My 8x6 greenhouse was delivered as arranged last Friday and erection of the base and frame has been trouble-free thanks largely to the excellent instructions provided. However, no instructions for glazing were included. This did not worry me unduly as I downloaded and printed from your website. From the glazing instructions it's apparent that the PVC H-profiles were missing from my kit. Can you please rectify this as soon as possible, and also include a printed copy of the glazing instructions to ensure I have the latest version? Thank you.
John, Coventry, West Midlands, CV3, 6x8 Greenhouse 005, 14th August 2014
EXTRA NOTE:- THE MISSING H PROFILES AND A PRINTED SET OF INSTRUCTIONS WERE POSTED ON 14th AUGUST.
Thank you for your very prompt response to our phone call about the missing part. I'm pleased to say this was delivered earlier this morning.
Brian, who is putting this greenhouse together for me, commented on the very good and comprehensive instruction booklet!
Thank you again for all your help.
Judy, Halifax, West Yorkshire, HX1, 8x10 Greenhouse 090, 18th July 2014
Thanks for your help with this, our greenhouse is now fitted.
Gill, Easington, County Durham, SR8, 6x8 Greenhouse 022, 18th June 2014
This building was fitted by Installer 132
EXTRA NOTE:- THIS GREENHOUSE WAS ORDERED BY A SCHOOL. INSTALLATION WAS ADDED TO THE ORDER AFTERWARDS - AND CARRIED OUT BY A FORMER PUPIL!
Thank you so much for sending the asembley instructions for my greenhouse - Your service is absolutely brilliant!!!!
Lynn, Seaham, County Durham, SR7, 6x8 Greenhouse 014, 9th June 2014
Thank you for delivering the new Green house last month which is perfect for us.
Stephen, Warrington, Cheshire, WA4, 6x8 Greenhouse 014, 9th June 2014
Hi There, I just want to thank you for the 6x8 greenhouse , it's up & running its a great build & strong when it's build up & on a flat ground can't thank you enoff .
Anthony, Belfast, Northern Ireland, BT14, 6x8 Greenhouse 014, 7th June 2014
Hi
I am now the proud owner of a completed greenhouse. Further to our chat in early May, I would be very grateful if you could now arrange for delivery of the benching at your convenience. If nobody is at home, please can it be left in the carport to the side of the house.
Many thanks
Andy, Leeds, West Yorkshire, LS8, 6x9 Cedar Greenhouse 321, 1st June 2014
Thankyou for the information on how to get spare parts. I have received the part E11 that I requested, thankyou so much for your speedy response.
An excellent service, thankyou again. Very pleased with the lean to green house.
Carol, Skegness, Lincolnshire, PE24, 4x6 Lean to Greenhouse 04, 1st June 2014
received automatic greenhouse ventilator opener thanks for prompt delivery, good instructions and works very well.
Trevor, Beeston, Nottingham, NG9, Automatic Roof Vent Opener, 3rd May 2014
Received the above last December but delayed erecting until last week. You were "spot on" with you build instructions & all nuts bolts etc.,included, despite my misgivings. " I received what I thought was a meccano set with various fixings falling out of the box delivered. (The plastic bag had been burst.)
I am therefore highly delighted to find yours is a high quality product and when built; it is a strong and stable construction. The design is ideal for small garden corners such as mine and much more decorative than the conventional g/hse design.
Hopefully, I will endeavour to enclose a photo of the finished product. If successful, the door has been wedged open for the cat and to the detriment of my tomatoes. The protective white plastic on the roof has been left at this point to protect the plants from sun. The two geese are mine, but don't lay eggs!
Many thanks.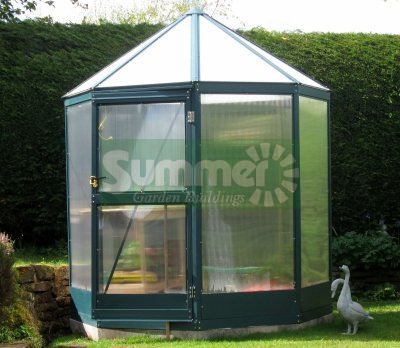 Jim, Hardthorn, Dumfries, DG2, 6x6 Octagonal Greenhouse 047, 24th April 2014
having recently purchased a fantastic green house from you I wonder if you sell shelving for the green house I purchased? I am also looking for a garden shed 8ft wide and 6 foot deep, any suggestions? would consider 8x8 for the right price. many thanks a seriously happy customer, mark
Mark, Truro, Cornwall, TR4, 6x8 Greenhouse 017, 18th April 2014
Hi Guys
Just wanted to say a big thank you......
The staging arrived as promised, and in good condition.
Thanks for the phone call, and the excellent service.
Best regards
Tom, Huntingdon, Cambridgeshire, CB24, Greenhouse Staging 346, 8th April 2014
Dear sir, my recently purchased green house is assembled and already in operation with my tomatoes etc. It is strong/sturdy and seems first class. the down pipes arrived and are fitted.
Thanks for you top service.
Robert, Harlow, Essex, CM17, 6x6 Greenhouse 102, 7th April 2014
Hi Jonathan,
Many thanks for your swift responce.
Both of the Autovents arrived safely this morning. Must be something a bit strange with the website . . .
May I just remark, that I recently bought a Greenhouse from you, it was Model 090, very pleased with it and with your service, it arrived next day, I got a phone call from you beforehand, I think your service is absolutely first class.
On this occasion too, you came straight back to me with answers, well done S.G.B!! I would not hesitate to recommend you and deal with you in the future if the opportunity arrises.
Best Regards
Alan, Worthing, West Sussex, BN14, 8x10 Greenhouse 090, 31st March 2014
just a thank you really.quality product at a reasonable price.good clear instructions,assembly was a doddle.many many thanx.
Ray, Gorleston, Norfolk, NR31, 6x8 Greenhouse 017, 26th March 2014
Hi folks,

Many thanks for your friendly communication and highly efficient service. Greenhouse and shelving received safely today, and an initial check seems to confirm that all components are present.

One further thought - if you could send a couple of days of good weather it would be greatly appreciated as I am now straining at the leash to get it all up and running.

Many thanks for everything - hope my feedback does you justice.

Best regards,
Derek, Trench, Telford, TF2, 6x8 Greenhouse 017, 19th March 2014
I would just like to say thanks delivery was excellent.Well in front of time stated,if i need any thing else i will be looking on your site.Thanks again
Peter, Allenton, Derby, DE24, 6x8 Greenhouse 014, 14th March 2014
Must give your company full marks for its service, I was contacted the same day as the order was made. the order was then delivered exactly on time. can only say thanks! WELL DONE.
Rose, Swansea, West Glamorgan, SA4, 6x8 Greenhouse 014, 1st March 2014
thank you very much for your attention to detail received order today very pleased would recommend you to anyone
Bill, Bridgend, Mid Glamorgan, CF31, Steel Tray Staging 387, 6th February 2014
Recieved greenhouse speedily. Although at first the parts and instructions seemed daunting my wife and I soon got in the swing of things and it went up really well. Very good value for money.
As was the potting table I subsequently ordered. Delivery was excellent 'as it said on the tin' Thank you very much.
Patrick, Cannock, Staffordshire, WS12, 6x6 Greenhouse 102, 28th January 2014
My delivery arrived safely this morning before 7.30 am.
Very efficient order processing and delivery by your contractor.
Many thanks
Peter, Southampton, Hampshire, SO31, Polycarbonate Glazing Sheets, 13th January 2014
Click here to return to unsolicited customer emails received so far this year.