COVID-19 CORONAVIRUS PANDEMIC - We are open and taking online orders as normal, as encouraged by the government. Many products are in stock and delivered within 7-14 days. Many other products are made to order, most within 6-12 weeks, some longer. Please refer to individual product pages for up to date delivery information. All services are much slower than normal due to unprecedented volumes of orders and enquiries. Our Show Centre is temporarily closed. To contact us please
CLICK HERE
. We hope to resume our normal service soon. For more information
CLICK HERE
.
Not your postcode?
Setting the first half of your postcode shows you the full choice in your area.
In a moment you may be asked to share your location. Please allow this so that we can show you the full choice in your area (inclusive of delivery charges). You may also set your location manually using the button above.

Click this messge to hide it.
Customer Emails 2011
Scroll down to see unsolicited customer emails received in 2011 ...
... or click here to return to emails received this year.
Hello,

Just to let you know, we have received the parts from you for my dad's greenhouse doors, so we will be able to get them put back on, and ready for the spring! Many thanks for sending these, excellent help from you, much appreciated. Have a lovely Christmas.

Kind Regards
Janet, Winsford, Cheshire, CW7, 8x10 Greenhouse 090, 18th December 2011
I would just like to thank you guys for a fantastic product !Its all gone together perfectly !!
Kind Regards
Nick, Stevenage, Hertfordshire, SG2, 4x6 Lean to Greenhouse 045, 18th October 2011
Hello, I recently purchased a 6X8 polycarb glazed greenhouse from you (excellent product by the way) and noted you do 2 rainwater down pipes as a extra, but i can not see how to order them thay are not listed or shown on the accessories. can you advise.
Regards,
Don, Burnley, Lancashire, BB11, 6x8 Greenhouse 101, 2nd October 2011
EXTRA NOTE:- AS PART OF OUR SERVICE, ANY CUSTOMER WHO PURCHASES A BUILDING FROM US CAN ADD ACCESSORIES LATER EVEN IF THE ACCESSORY IS NOT NORMALLY SOLD SEPARATELY.
You supplied me with a greenhouse last week. One piece was packed incorrect and I phoned to request a replacement. In less than 24 hours, the mistake was sorted and the right part was in my hands. The woman I spoke to was courteous and helpful (and tolerant of an elderly man with poor hearing). I cannot fault the service. Thank you very much.
Malcolm, Cringleford, Norwich, NR4, 8x12 Greenhouse 161, 27th September 2011
Many thanks for the "Lean-To" greenhouse which arrived at 9 o'clock this morning. When you say next day delivery you really mean it!
Great Service & a Great product.
John, Doncaster, South Yorkshire, DN8, 4x6 Lean to Greenhouse 045, 23rd September 2011
I have recently received and erected one of your 6 x 4 Greenhouses and would like to express my complete satisfaction with every aspect from the order to delivery to assembly and erection.
Thank you Summer Greenhouses you have one very pleased customer.
Peter, Bude, Cornwall, EX23, 6x4 Greenhouse 103, 22nd September 2011
Hello

Greenhouse delivered to me as promised yesterday - 2nd September 2011

Thank you.
Regards

John, Barnehurst, Kent, DA7, 6x8 Greenhouse 101, 3rd September 2011
EXTRA NOTE:- THIS GREENHOUSE WAS ORDERED ON 1st SEPTEMBER 2011.
Greenhouse erected and we are very pleased with it. Thank you
Joan, Redditch, Worcestershire, B98, 6x6 Greenhouse 102, 20th August 2011
We recently purchased a 8x6 budget greenhouse from yourselves. It is now erected and in use. What a fantastic purchase. Now erected it is extremely sturdy and excellent value for money.
many thanks
Ken, Littleborough, Lancashire, OL15, 6x8 Greenhouse 101, 16th August 2011
Hi Guys, I purchased a 6x6 greenhouse recently, erected it single handedly in 2 easy days. Instuctions very good ( if you read them carefully ). No Problems.
Thank You
Pete, Sandhurst, Berkshire, GU47, 6x6 Greenhouse 102, 14th August 2011
We recently bought an 8 x 6 greenhouse with which we are very pleased but seem to be short of some plastic strips. Could you let us know if you can send us some and what the cost would be. I look forward to hearing from you.
Elizabeth, Glenrothes, Fife, KY7, 6x8 Greenhouse 101, 4th August 2011
EXTRA NOTE:- ADDITIONAL POLYCARBONATE SHEET END CLOSURES WERE POSTED FREE OF CHARGE ON 5th AUGUST.
Hi, just to say how grateful I am for your prompt delivery of the 5 blade louvre
for my greenhouse, fitted in minutes and working perfectly,
Thank you once again. regards
Michael, Lechlade, Gloucestershire, GL7, 6x8 Greenhouse 101, 1st August 2011
Arrived this after noon.

Everything appears ok.

Excellent service.

Thank you.

Stuart, Kilsyth, Glasgow, G65, 6x8 Greenhouse 101, 6th July 2011
the greenhouse arrived 8.15am on the day of delivery.all there nothing missing.my husband put it up with no problem.very nice to look at just the right size for us it is up and running and we are looking forward to many years enjoyment in our retirement with it
Mrs K, Worksop, S81, 6x8 Greenhouse 101, 20th June 2011
Very pleased with greenhouse, that we purchased from you last Wed and deleivery next day, was the fastest delivery we have ever had. Went together very well, took us 2 days with showers but it was worth it. Thanks
Albert, Rochester, Kent, ME3, 6x4 Greenhouse 103, 15th June 2011
Thank you for your thoughtful e-mail and for arranging for the factory to send me some more clips.

I am delighted with my new greenhouse which is a 70th birthday present from my wife. It s a huge improvement on what we had before and we look forward to many pleasant hours working in it.

Kind regards

Mr Smith, Salisbury, Wiltshire, SP3, 6x10 Greenhouse 022, 8th June 2011
Dear Sir/Madam
In reply to your e-mail I must commend you on the speed and efficiency of your service. I placed my order last Thursday, expecting that I would not receive it for up to a week and it arrived on Friday - not a full 24 hours since order. Thank you! My greenhouse roof has been repaired and I am more than happy with the result.
Best wishes.
Anne, Newtownabbey, County Antrim, Northern Ireland, BT37, 5 Polycarbonate Glazing Sheets, 5th June 2011
Good Morning Sales,
Just a quick message to say how pleased we are with our greenhouse.It was delivererd on time,the instructions were easy to follow,no parts missing!!.
We look forward to using our greenhouse for years to come.

Kind Regards

Jeff & Sandra, Leeds, LS16, 6x8 Greenhouse 022, 20th April 2011
It just arrived! Thank you very much for all your help and professional service. A couple of lads on the allotment are looking for greenhouses and I am about to pass on your contact details to them.
Excellent service,
Thank You,
Gareth, Abertillery, NP13, 6x8 Greenhouse 101, 8th April 2011
About a year ago I ordered a potting shed for my mother which was delivered and installed at her property. I have just ordered and received a miniature greenhouse from you which I assembled myself. I must say that I am very impressed with the way your company deals with its customers and I will order goods from you again.
William, Wallsend, Tyne and Wear, NE28, Wooden Growhouse 061 and 6x8 Potting Shed 149, 29th March 2011
Thank you for your swift response! I received the replacement door rollers today.
Thanks again for excellent customer service. I shall be ordering some extras from you very soon
Jemma, Whitley Bay, NE25, 6x8 Greenhouse 101, 26th March 2011
EXTRA NOTE:- AN EMAIL FROM THIS CUSTOMER DATED 21st MARCH IS REPRODUCED BELOW:
I ordered 8x6 greenhouse from you on 14 feb 2011. We have just completed building it.
Unfortunately two small parts are broken - code E12 "door top". The rollers that fit to the top of the door.
I am therefore unable to use the greenhouse.
Could you please send some replacements?
Many thanks
Jemma
Dear Summer Greenhouses.
I bought one of your Greenhouse and polycarbonate glazing delivered with optional base plinth early in February and due to unforseen circumstances have only erected it this week.
I have been extremely pleased with the greenhouse and the excellent service I recieved from your company. I have recommended you to my neighbour who decided she wanted a greenhouse when she saw mine!
I wanted to let you know that the M6 x 10 bolts and M6 nuts are of a very poor quality. They are so soft they shear off very easily and the nuts are difficult to get on. In the end I went to my local screwfix and replaced the lot. I don't know if you have had anyone else mention it, but I would much rather have paid £10 more for the greenhouse and saved lots of time and know it is fixed together well.
Regards
Samantha, Bolton, BL2, 6x8 Greenhouse 101, 25th March 2011
EXTRA NOTE:- OUR REPLY DATED 26th MARCH IS REPRODUCED BELOW:
Dear Samantha
I'm sorry for the delay in our reply. We have been very busy. The nuts and bolts are standard greenhouse components which are made from alumnium and widely used. Most people are used to steel which is much harder. Aluminium bolts must not be overtightened or they will shear off - this often takes some getting used to! If required we are always happy to supply extra nuts and bolts free of charge. Some tougher alloy bolts have been developed recently which are more expensive but which are not yet in common use by the manufacturers. It may be that you found some of these but I'm writing in case you replaced the bolts with steel. You should be aware that steel and aluminium are incompatible so this could cause problems. Steel bolts should not be used in aluminium greenhouses. Thankyou for your kind comments about our product and service.
Just inadvertently sent a blank e mail please ignore! Last week I received my 8' x 6' greenhouse package order and wish to let you know how very pleased I am with it. have still to get the door hanging nicely but otherwise it's fine. I have also been very impressed with your staff's attention to detail regarding the delivery etc. Thanking you,
Nick, Husbands Bosworth, Leicestershire, LE17, 6x8 Greenhouse 101, 18th March 2011
MANY THANKS FOR YOUR WONDERFUL GREENHOUSE EXPERTLY INSTALLED LAST YEAR
INVALUABLE IN SUCH HARSH WINTER CONDITIONS
Edward, Isleworth, London, TW7, 6x8 Wooden Greenhouse 682, 11th March 2011
EXTRA NOTE:- THIS CUSTOMER ALSO SENT PHOTOS OF THE GREENHOUSE AND SOME OF THE PLANTS HE HAS NURTURED IN IT WHICH ARE REPRODUCED BELOW: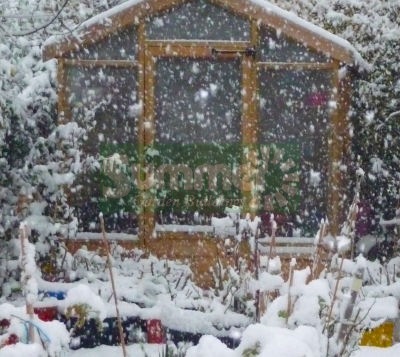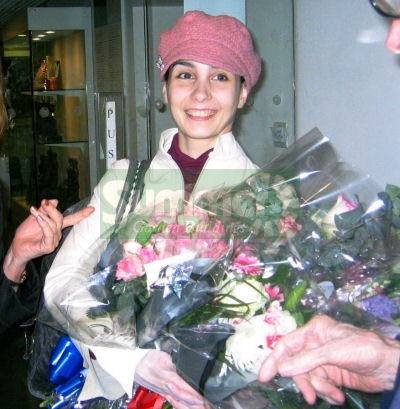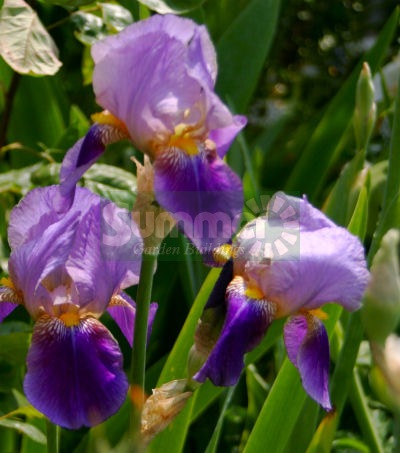 Just to say thank you for your customer service re the above order, excellent all round. A big thanks to a guy called John who rang me regards the base. Thank God he did and I purchased one, it was hard enough with and I would think twice as hard without.
P.S. Usually people complain about instructions but I thought these were pretty good.
thanks again
George
A happy customer
George, Dunfermline, Fife, KY12, 6x8 Greenhouse 101, 8th March 2011
good buy

have just built green house fab value fab service thank you
Pauline, Cinderford, Gloucestershire, GL14, 6x8 Greenhouse 101, 4th March 2011
Hi
Greenhouse arrived this morning great service.
Thanks
Noel, Radford, Coventry, CV6, 8x10 Greenhouse 064, 5th January 2011
Click here to return to unsolicited customer emails received so far this year.